A specialist UI Artist with a decade of experience, Jess Sage, has joined the company two and a half years ago and has become an indispensable member of the Racing team. While she has taken on a leadership role less than a year ago, coordinating responsibilities and drawing links between UK and global teams, she continues to dedicate her artistic talents to creating UI assets for CSR2. Although it's not her first time speaking out about working in the games industry, as she's presented at conferences and university events in the past, this time round she delves into her journey with us in greater detail. With a passion for equality in the workplace, she injects her professionalism and expertise into every aspect of the Racing team's artistic production. 
Keep swiping down to get to know Jess better!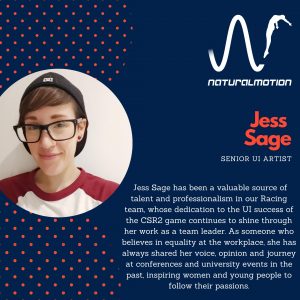 What is your role within NM/BA and how did you get here?
I'm a Senior User Interface Artist. I joined the Racing team at NaturalMotion about two and a half years ago, and was promoted to a Senior this year.
Tell us how you came to Join NM/BA.
In 2018, I was working in Canada and decided it was time to come home after five years. I looked for UI Artist jobs in London and came across NM – the CSR2 project was very appealing, so I applied. Less than a week later, I was offered the position!
How would you describe the people within NM/BA?
The folks at NM are incredibly professional, but they're also really fun and friendly. I feel respected and listened to.
Why is a culture like this so important to you?
It's incredibly important to me that folks are seen for who they are and what they bring; that they're seen as individuals, not labels. In my experience, NM upholds this approach well.
How does it feel when you see your work in a real life setting?
Really proud! When I see a trailer for CSR2, and how well it's been put together, I remember how talented and dedicated the team is.
Tell me how the company supported your growth?
NM have been extremely supportive since day one. I've always felt encouraged to improve and be ambitious; when I wanted a Senior role, I asked about it and the steps were immediately taken to facilitate that.
What is a common misconception your industry faces and what is the reality?
I think it's a common misconception that games are "made" by a single designer and otherwise just pop out of the ground. I don't think people outside of the industry understand just how big our teams can be, and how much time it takes to create these projects.
What is your role at NM/BA? Walk us through your typical day.
As a Senior UI Artist on CSR2, I oversee most of the work in progress on the project: from various new features, to optimization plans, to Live Events. I split my time between handling & dispensing information, delegating work to the other UI Artists on the team, and producing UI artwork myself.
What is the overall mission of the team?
The Racing Team at NM strives to create the number 1 racing game for mobile. I think we manage! The quality of the 3D artwork, not to mention the dedication to real car manufacturers, is so impressive.
Do you have any mentors or leaders that have helped or inspired you throughout your career?
The Art Team Leads have often been an inspiration to me throughout the years. I've known some very kind, creative people who encouraged my ambitions and were incredibly supportive. I've also been really inspired and motivated by the women who work as Producers on our teams – both past and present. They show a confidence and authority that I aspire to.
What does it mean to you to be a woman in technology and gaming? 
Whilst I want to be treated the same way as the men in my field (and right now I very much am, which is great), I also understand how powerful it can be to represent someone younger, unsure, or disenfranchised, and to be a face and a voice for women aspiring to enter the industry.
As a woman in the tech industry, what are some difficulties or obstacles that you've faced, and how did you overcome them?
Thankfully, I haven't experienced many obstacles in my career – not enough to make me want to leave. In the past, I was taken a little less seriously and my growth was much slower…I actioned this by leaving for a new role and bringing more confidence (which was welcomed). 
What role have men played in your career or what role do you think they can play in women's career equality? 
My male teammates and mentors at NM have consistently treated me as an equal; they take me seriously as a professional and trust my discipline-related knowledge. I've never felt singled out or tokenised, but have always felt welcome. They set an amazing example for making a positive impact on women's career equality.