Damian is Zynga's Head of Design and the Creative Director for a new unannounced game with 25 years of experience in the design industry. He was eager to make the switch from console gaming to the vibrant, ever-evolving mobile gaming industry when he joined Zynga at our London studio in 2014. Throughout his career with Zynga, Damian has experienced a multitude of growth in what he describes as a collaborative, passion-filled environment.
 Read on to find out more about Damian's views on the power of teamwork and debunking common misconceptions about working in design and gaming.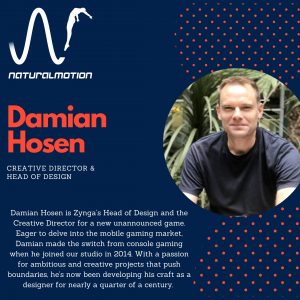 What is your role within NM/BA and how did you get here?
I'm Head of Design for the company and the Creative Director on a new, unannounced game. I joined the team in 2014 after having finished developing LittleBigPlanet3 with Sumo Digital in Sheffield. Before that I worked as Head of Design at the PlayStation studio in London where I designed and directed the development of a new game franchise, Until Dawn. 
Tell us a little bit about your background before joining NM/BA. 
Prior to joining Zynga, my career had been focused on console gaming and I was passionate about moving to the nascent mobile market where an explosion in creativity was taking place. As a creative person I was desperate to be a part of that. I wanted to work with an organization of high ambition that took creative risks and delivered genre-defining titles. NaturalMotion was and still is that company. 
Since starting with NM/BA, how has your own growth and development progressed?
It has been an amazing period of growth for me. My mindset shifted from a console, disk-based approach to designing a service that will evolve alongside a living community for years to come. Working with pioneers of the mobile space was a tremendous opportunity for me to gain valuable experience points on a daily basis. Now I get to pass that on to others. 
How would you describe the people within NM/BA?
The people that work here are passionate about making high-quality games that they would love to play. What I like most about that is the collaborative spirit that is present within each team. If you want to make great games and work with an inclusive group of talented people, this is the place to be.
What would someone be surprised to learn about your company or profession?
There can be a lot of confusion about what designers do! Many people seem to think that design is "coming up with all of the ideas." That is categorically not the case. Healthy teams generate ideas from everybody that works on the game, while designers take these ideas and synthesize them into a cohesive player experience. This is the craft that I have spent nearly 25 years developing. Historically, people viewed gaming as a nerdy, male-focused pursuit. I'd like to think the perception has changed because it is certainly the case that gaming as a medium has broadened considerably with the advent of mobile gaming and the burgeoning indie sector. It's a rich, vibrant cultural space.
How does it feel when you see your work in a real life setting?
It's the best feeling. The last time I was in San Francisco I saw a LittleBigPlanet3 video playing in the window at GameStop. You never get used to the thrill of seeing your games out in the world.